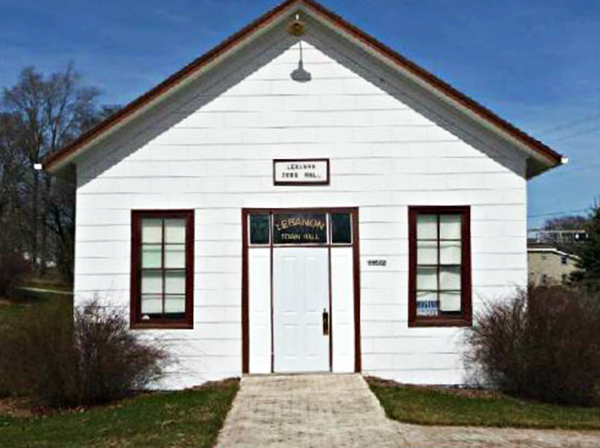 The Lebanon Historical Society (LHS) was incorporated with the State Historical Society of Wisconsin in October of 1997.  We've also been a branch of the Dodge County Historical Society since 1996.  Our purpose is to recount local history, collect pictures, memorabilia and artifacts, and preserve as much of our area's past history as possible.  We erected six historical markers which are on display in Lebanon.  The historic Town Hall is the second oldest (1890) public building remaining in Lebanon, and is the home of the local museum.
The LHS holds monthly meetings on the third Sunday of the month, from September to May.  Each meeting begins with an interesting program, usually of historical nature.
The LHS membership is open to anyone wishing to join. You can join as an individual, family, business, individual lifetime or couple lifetime. Dues range from $5-$25 per year, $150 for an individual lifetime or $250 for a couple lifetime membership.  If you would like more information, please contact Edward W. Raether at 262-542-7872.
The Lebanon Historical Society Museum, W4672 Ivy Street, Lebanon is open the first Sunday of the month, from May through October, from 1:00 p.m. to 4:00 p.m.  Stop in and check it out...you will be pleasantly surprised.
Donations of artifacts and monies are always appreciated.  We will also accept artifacts on a consignment basis.  The LHS is a 501(3)(c)Non-Profit Organization.
Contact:
Lebanon Historical Society
W4672 Ivy Street
P.O. Box 23
Lebanon, WI  53047
Facebook.com/LebanonHistoricalSociety
www.lebanonwihistory.org/
OR
Edward W. Raether, President 
213 N Comanche Lane
Waukesha, WI  53088
Phone: 262-542-7872
Email: [email protected]
Upcoming events:.
May 19, 2019   6:30 PM  at Lebanon Fire Department meeting room.
German POW's in Wisconsin
During WWII, German prisoners were barracked throughout Wisconsin and employed locally, including here in Lebanon.
An illustrated talk will be given by Daniel Wittenberger.
Museum and Cabin will reopen-
Saturday June 1, 2019-10 am-2 pm
Sunday June 2, 2019 1 pm-4 pm 
Sunday June 9, 2019 1 pm- 4 pm
September 15th, 2019   4:00 PM
Chuck Werth will be giving a presentation on a TBD topic. Presentation followed by potluck.
October 6th, 2019   10 AM – 1 PM  
CHILI LUNCHEON, at Lebanon Fireman's Park
November 17th, 2019,   6:30 PM  
Mark Louden from the Max Kade Institute for German American Studies will be giving a presentation.